The name Yoho is well known in the motocross world… especially down in Florida.  Randy Yoho, owner of the infamous DCMX (Dade City Motocross) has been running one of the most famous amateur motocross tracks in the country for years. Randy and his team made the venue home to dozens of the country's top pros and up & coming amateur stars, like James Stewart, Ricky Carmichael, Tim Ferry, and RJ Hampshire. Kenny Yoho, Randy's son, gained a whole lot of experience under his father's guidance. Recently, Kenny decided to take his 35 years of motocross insight, and promote an exciting new series across the Sunshine state.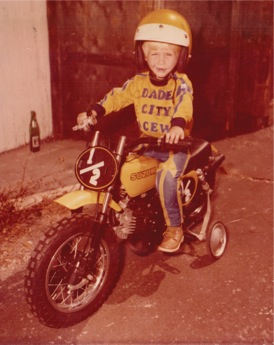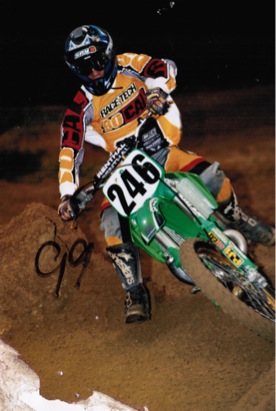 Named "I4MX", the series is a result of Kenny's 'sweat equity' both on and off the bike. His I4MX ten race series, is spread over eight weekends at four different Florida tracks, and is guaranteed to be a big hit. "It was developed by a racer, for racers" claims Kenny. Born in 1976, Kenny grew up learning everything imaginable about racing motocross. By 1981 he was on the podium at his dad's track. Ten years later, Kenny was being chased atGatorback by future pros Kevin Windham, Nathan Ramsey and Robbey Skaggs. As a matter of fact, Kenny beat them to the podium in the 1992 Mini O's. Kenny raced several Loretta Lynn Nationals, with top 5 finishes. In 1990 Kenny Yoho turned Pro, lining up against a stacked field of talent, and qualifying for numerous main events, including Daytona. His best finish was a 17th at the Tampa Supercross in 1994. Lured by more money and a Factory Meyer Honda ride…Kenny Yoho headed overseas to Europe in 1999 to race in Germany's Supercross series.
Eventually, Kenny discovered bigger pay checks existed in the emerging world of freestyle motocross. He formed the East Coast Extreme Riders and toured the world from 2001 to 2008. Ironically, Kenny is credited for bringing legend Ronnie Renner into FMX. "Renner was scared of Freestyle. He was a motocross rider and didn't really want to do it." Kenny told Chronic MX. "But I convinced Renner to join me, and once he tried it, he was hooked and is now with Red Bull". Kenny brought other local Florida mx'ers on board too… guys like Jason Thomas, Travis Willis, and Rudie Waller. The 2001 Crusty Demons Video Series picked up Kenny and his crew, creating episodes 7, 8, 9 and 10. "The money was good, but after 2005, my heart just wasn't in to it anymore." Unfortunately, on October 7th, 2005, Kenny lost his fiancé in a trajic car accident. His daughter, also involved, survived the accident but is bound to a wheelchair from serious injury. The accident changed Kenny's priorities, and he found himself wanting to hang things up and head back home to Dade City.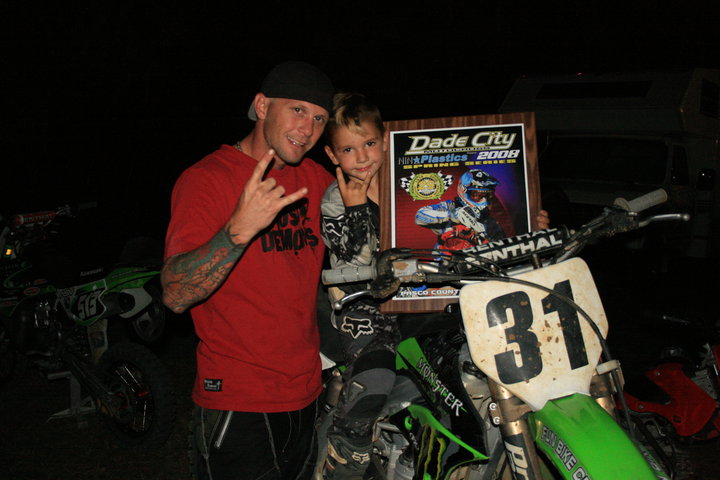 In 2008, Kenny retired from Freestyle Motocross and returned home to help run and manage his father's highly successful DCMX program. Kenny promoted races, taught MX school, and focused on family responsibilities. Like most hardcore MX'ers, he still lined up on the gate occasionally, and even won the 2008 Gold Cup 30+ class. For 5 years Kenny was an integral part of DCMX's success, announcing the races and working with his father to manage track operations. "I've been around it my whole life. I know how to run a track smoothly and I know what it takes to have a great series", said Kenny. "I have all the respect in the world for my father…I've seen what it takes".
The new I4MX series will have many incentives for it's racers. Holeshot awards, big payouts, and a great schedule are just some of the perks. "I want the riders to have a goodtime and comeback. I want to give back to the riders, because I was a rider too. I built the I4MX series around them" said Kenny. "In Florida, unfortunately local tracks have not always worked well together. I wanted a great local series that was centrally located, easy to drive to, and that could bring many of these great tracks closer together. I named it 'I4MX' because that is the major highway (I-4) that joins the tracks together". The I4MX series starts in March and will be held at four tracks… Sunshine, Coyote, Bartow and East Bay.
Sunshine MX, located in St. Petersburg, Florida, is a historic track… home to past outdoor nationals, and will kick off the series on Sunday, March 16th. Coyote MX is the newest of Florida's famous MX tracks and has two awesome side by side tracks. Unique to the series, Coyote MX will host back-to-back races, a Saturday race on one track and then a Sunday race on the other track. The overnight stays at Coyote MX in both April and July, will include a big evening party with full entertainment. Bartow MX has been open for decades and is a well known Florida track notorious for its white sand. East Bay is hailed as one of the best Supercross tracks in the South East, packed with loam dirt and a phenomenal track layout. "I wanted a tight series that wasn't too long…so we will host it over 8 weekends at four great venues". I4MX will have pit bike racing and FMX events during halftime, and also plans to have an exciting Women's Pro Race during the first round at the Sunshine MX venue. Kenny is also planning a $1,000 payout at every race, with a $10,000 purse in the "SuperLites" class (125 & 250 two strokes, and 250f's only). There is no doubt that excitement is building as the likeable Kenny Yoho promotes his new series. 
Article curtesy of Chronicmx.com.
Stay tuned here and to http://www.facebook.com/ChronicMotox as we plan to post updates, results, photos and video of the series. Cheers, Chronic MX.